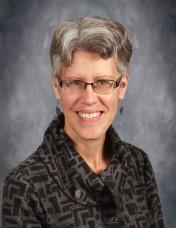 Phone: 585.458.3786
Email:
Degrees and Certifications:
Sister Anita Kurowski, SSJ

Welcome to the MUSIC Section!

My name is Sister Anita Kurowski, and I am a Sister of St. Joseph. The children call me Sister Anita. I began working at Nazareth Elementary in 2011, and since that time I have been thrilled to watch the children grow in their knowledge and love of music. I have a Bachelor of Arts in Music Education as well as a Master in Liberal Arts (with Music concentration) from Nazareth College.

I believe it is part of our human nature to express feelings and create connections through music making. Music is also one special way of experiencing the Holy Spirit. At Nazareth the children learn that music can enhance their life anywhere — in the classroom, on the bus, in the cafeteria, at special performances, and during Masses and Prayer Services.
I currently teach General Music for Preschool through Grade 6 and Dance/Movement for Grades 2-6. Unfortunately, we are unable to sing at school as long as we need to observe safety precautions against the spread of COVID-19. However, once everyone is protected against this disease, I will also be able to offer Chorus for all grades and Children's Choir after school for Grades 3-6.

We are blessed to have a music room filled with percussion equipment, recorders, keyboards, guitars, and space for dancing. Here's a clip of our Third Graders practicing their beginner recorder skills using an online resource called the "Rockin' Recorder Method Book:"


It is truly a privilege for me to enter the world of music making with your children. May the music that is already in their hearts blossom and make the world a more beautiful place!