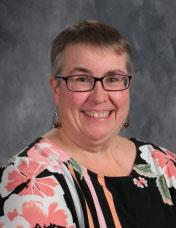 Phone: 585.458.3786
Email:
Degrees and Certifications:
Sister Melissa Gernon, SSJ

My first few years at Nazareth I was a classroom assistant in Kindergarten, First, and Second Grades. The next year I was the Pre-K 4 teacher. I am in my fourth year as the Second Grade teacher. Prior to coming to Nazareth, I taught Preschool for 16 years. I never thought I would like teaching anything other than Preschool, but I adore teaching Second Grade!

I joined the Sisters of Saint Joseph because I had a desire to live in community and be supported in my role as a Catholic Educator. I came to Nazareth because it is a great school and there was a need for me that God was asking I fulfill. I love Nazareth because of the community we have here. We love and support each other as a staff, and we get to work with fabulous families who really want the best education for their children.

I absolutely love Dr. Seuss books. Dr. Seuss was a man who through his life experiences in the workplace changed his heart from being racist to being accepting of others. I especially love doing art projects with my students because I think the arts are a great way to reinforce what was learned in creative ways. In my free time, I love to paint with watercolor or acrylic paints and to write poetry. I have quite a collection of poetry related to my ever growing relationship with God!