How to Apply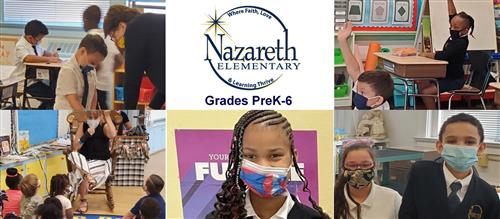 We're so pleased to have you here! To complete your application, please submit the following documents:
Application for Admission (see below for link to appropriate application)

Tuition Payment Preference Form

Release of Student Information Form

Copy of student's Birth Certificate(s)

$150 per family Application Fee
Application forms can be completed online and emailed to Nazareth or you can print them and mail or deliver them to our Main Office.
Families with multiple children should list all children who will register at Nazareth on the application. The $150 Application Fee covers all children in the household. You will be notified of acceptance after all items are received and reviewed. Current/previous school records must be reviewed prior to acceptance for children entering Grades 1–6.
ALL ITEMS listed above must be submitted before a tuition assistance award can be considered. Please view Tuition and Tuition Assistance for additional information.
Please contact our Main Office for assistance if you have any questions at 585.458.3786 or send an email to mmancuso@nazarethschools.org.
Choosing a school for your child is a very important decision. A Nazareth education is an investment in your child's future — and it's an investment that will last a lifetime. Thank you for choosing Nazareth!
You may pay the application fee via PayPal below or by cash or check (made payable to Nazareth Elementary School):